Description
AIR VENT VALVE ,MODEL : TA-16, TA-16L

Features
• All parts, except for the valve disc, gasket, L-shaped hose
joint (TA-16L), are made of stainless steel, offering high resistance
to corrosion and durability.
• Wide working pressure range (0.01 to 1.0 MPa) ensures stable
exhaust capacity.
• Can be installed in small space because of compact body.
• Outstanding sealability offered by fluororubber valve disc.
• The TA-16 can be connected to any exhaust piping easily
by attaching optional piping connectionStainless steelparts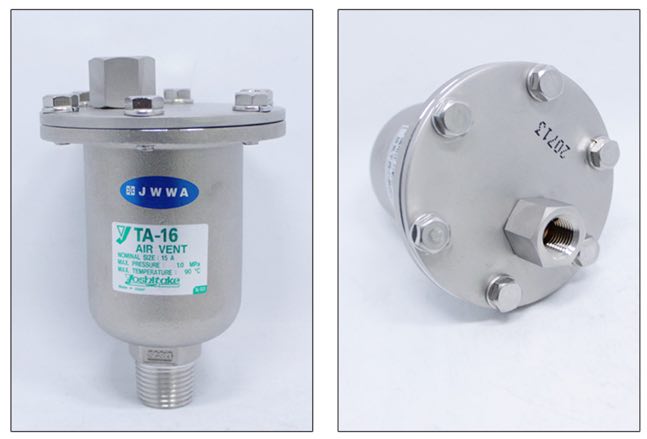 Product Details
∙ Brand: YOSHITAKE
∙ Size: DN15 – DN25
∙ Feature : Stainless steel / 1.0 MPa
∙ Category : Air Vent
∙ Application: Cold and hot water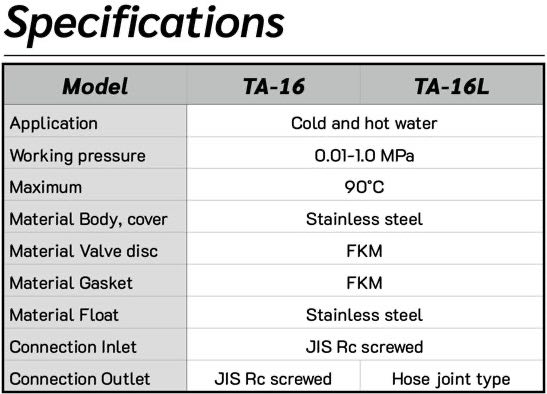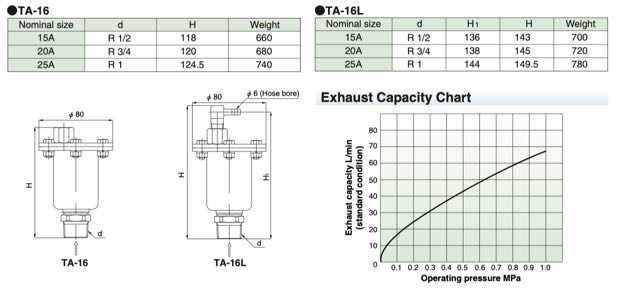 * Precautions for Installation
∙ Remove foreign matter and scales from the lines and install the valve vertically where the air likely gathers.
∙ Install the stop valve (cock or gate valve) at the inlet side of air vent valve in order to do maintenance.
∙ There might be a possibility of leakage by scale inside the pipe so please install the point of outlet side not to back
flow to the drainage channel.
∙ Stop the stop valve and disassemble and clean the valve body and valve seat in case of leakage caused by thescale inside the piping.