รหัสิสนค้า TETW
ชื่อสินค้า Thermowell
เป็นส่วนประกอบที่สำคัญสำหรับการใช้งาน Temperature Gauge ในโรงงานคือตัว "Thermowell ครับ" โดยหน้าที่หลักของ thermowell คือการป้องกันการเสียหายที่อาจจะเกิดขึ้นกับตัว temperature gauge จากสภาวะการใช้งาน ไม่ว่าจะเป็นการสั่นที่เกิดจากความเร็วในการไหลของสารที่วัดหรือแรงดันภายในระบบที่วัด เป็นต้น โดยตัว thermowell ยังใช้เป็นตัวแยก (isolate) ระหว่าง temperature gauge กับตัวสารในระบบ
ในกรณีที่มีการถอดตัว temperature gauge ออกมาซ่อมบำรุงหรือเปลี่ยน เราจะได้ไม่ต้อง shutdown ระบบ
อีกสิ่งหนึ่งที่สำคัญมากในการเลือกใช้ thermowell คือ wake frequency calculation โดยค่า frequency calculation ที่ได้จะต้องไม่เกินจากที่กำหนดไว้ ตามมาตรฐาน ASME PTC 19.3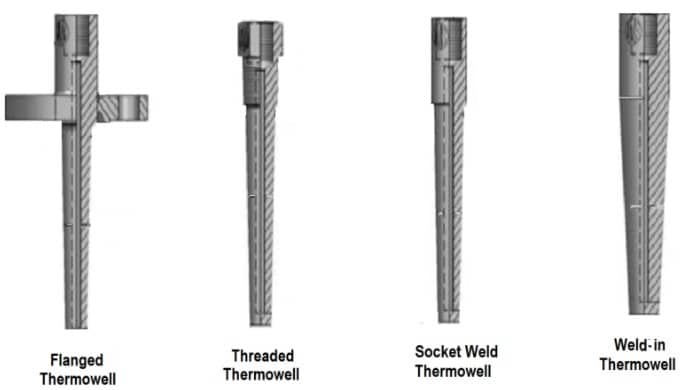 ภาพตัวอย่าง Process Connection แต่ละแบบของ Thermowell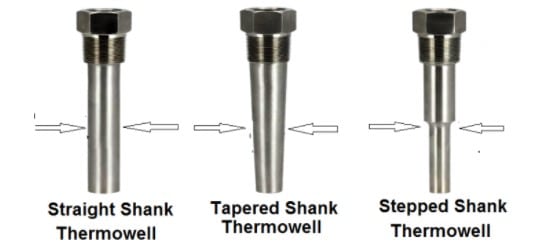 ภาพตัวอย่าง Thermowell Construction
– The straight shank is the same size all along the immersion length. For general purpose, where additional strength is not required, the straight shank or stem is used.
– The step shank has a larger outer diameter at the end of the immersion length in some applications for a quicker response time.
– The tapered version decreases gradually along the immersion length. Tapered thermowells are designed for use in high velocities, where extra strength is required. Special attention shall be given to the vibration effects caused by the fluid passing the thermowell.