2/2 WAY ANGLE SEAT VALVE
BRAND : BURKERT
Type Description
The externally piloted angle seat valve is operated with a single or double–acting piston actuator. The actuator is available in two different materials, depending on the ambient temperature. High flow rates are attained with the virtually straight flow path. The reliable self–adjusting packing gland provides high sealing integrity. These maintenance-free and robust valves can be retrofitted with a comprehensive range of accessories for position indication, stroke limitation or manual override.
Features
• High flow rates
• Very high cycle life
• Long life alternative to ball valves
• Threaded end body
• Suitable for 150 PSI steam
• Deliverable with flow direction below or above seat
• Normally closed, normally open; or double-acting
Specification
Product code : Type 2000
Media : Alcohol, Alkali solutions, Chemicals, Food / drink,Fuel, Hydraulic fluids, Oils, Organic solvents, Pharmaceuticals, Process gases
Salt solutions, Steam, Water
Valve type : Angle seat valves
Construction : Brass, Bronze , Stainless steel
Max. pressure : 16 Bar
Min. temperature : -10C
Max. temperature : 180C
Min. connection size : 10 mm.
Max. connection size : 65 mm.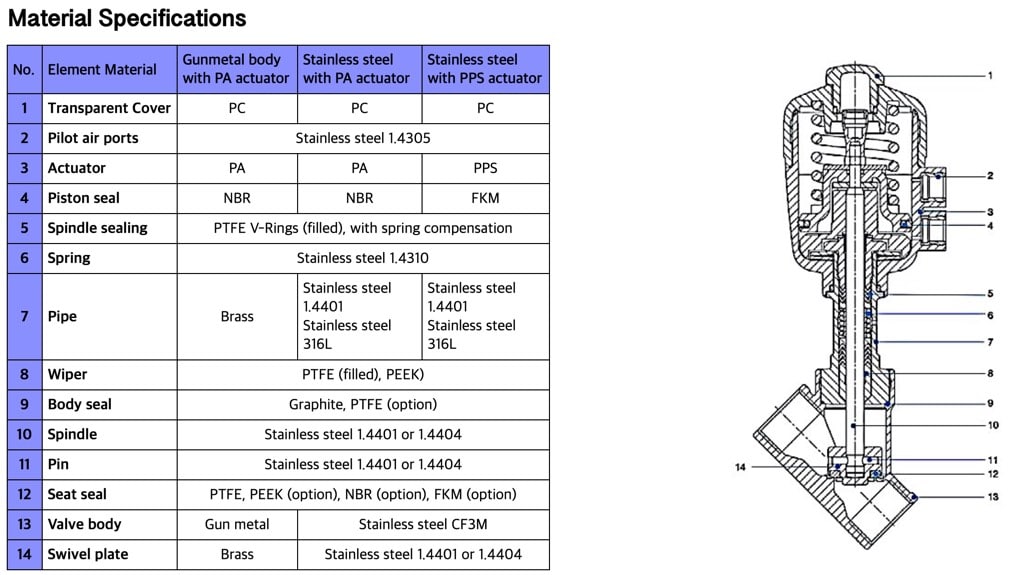 1.) One piece for the actuator sizes 63 mm (E), 80 mm (F), 100 mm (G) and 125 mm (H)
2.) For the actuator sizes 63 mm (E), 80 mm (F), 100 mm (G) and 125 mm (H)
3.) For the actuator sizes 100 mm (G) and 125 mm (H)